WELCOME TIM FERRISS LISTENERS
Fund your first Cash Account today
and we'll deposit an extra $50 for you.
4.80% APY Interest | No account fees
Build your emergency fund and save for future expenses in a high-yield Cash Account where your money only goes up. Fund your account with $500 or more to get a bonus $50 on us.
The originating advertising material was sponsored and paid for by Wealthfront Brokerage LLC ("Wealthfront Brokerage"). Tim Ferriss holds a non-controlling equity interest in the corporate parent of Wealthfront Brokerage. Otherwise, the referenced podcast and Wealthfront Brokerage are not affiliated with one another and have no formal relationship outside this arrangement. See further information.
The $50 Promotion ("Promotion") is solely available to the select individuals who do not have an existing Investment Account or Cash Account, click on the promotional landing page CTA and subsequently open and fund their first Cash Account at Wealthfront Brokerage LLC ("Wealthfront") with at least $500 within 30 days. In order to be eligible for the Promotion, you must pass Wealthfront's identity verification process. After meeting the terms of the Promotion, Wealthfront will deposit $50 into your first Cash Account at Wealthfront within 30 days.
Wealthfront reserves the right to decline to provide or to clawback the $50 Promotion in the event that Wealthfront determines, in its sole discretion, that there may have been a violation of the terms of the Promotion or that any fraudulent activity occurred in connection with the Promotion. Wealthfront reserves the right to change the terms set forth herein or terminate the Promotion at any time without notice. See more details about the Promotion.

Best Cash Management Account, 2023

Best Cash Management App, 2020

Money that flows freely.

(literally).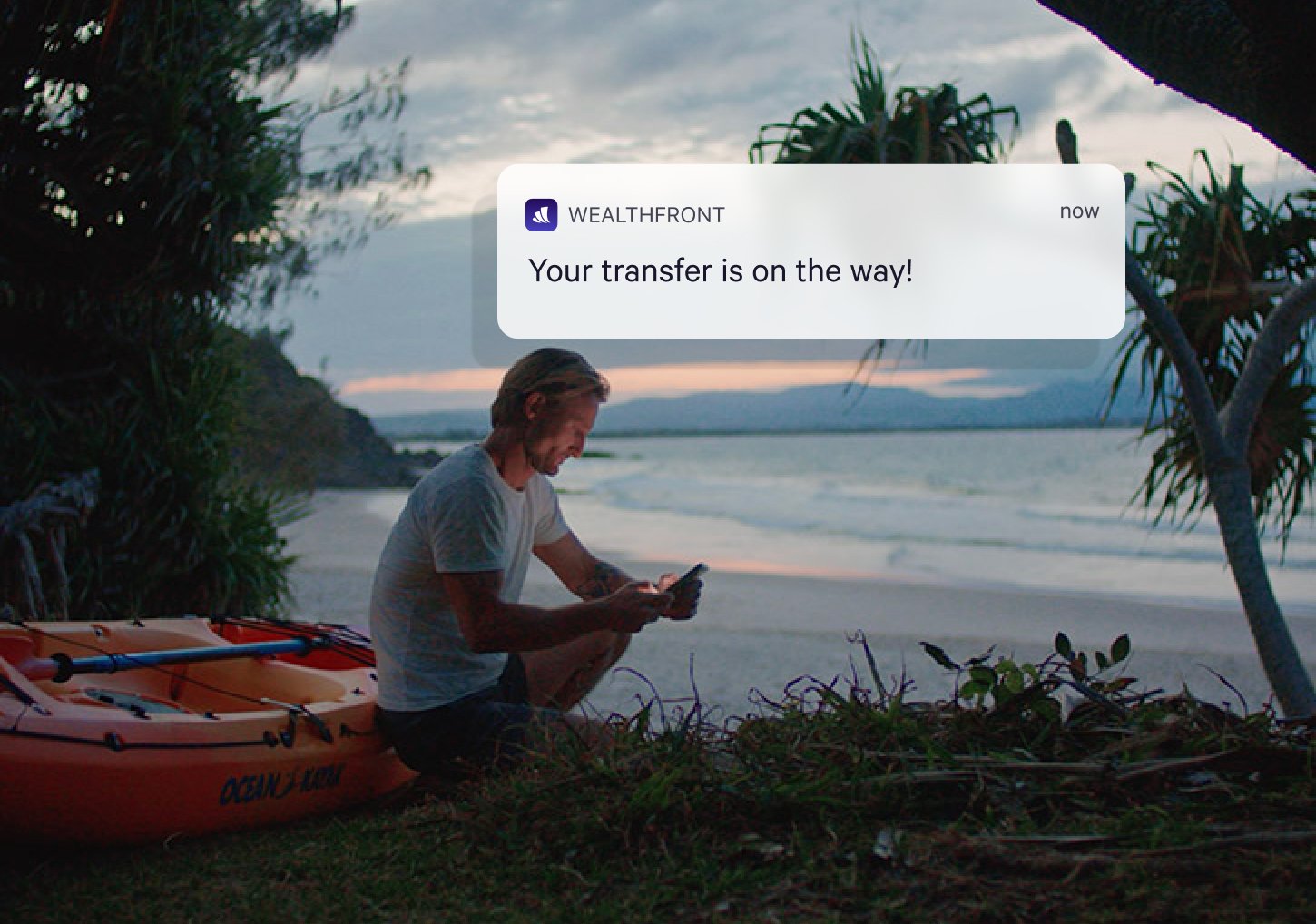 With unlimited, fee-free and fast transfers to Wealthfront investing and external accounts, you are free to move your money whenever and wherever you choose. Use automated savings to monitor your external accounts and save just the right amount when your balance reaches a pre-set threshold.



Did we mention you can spend it, too?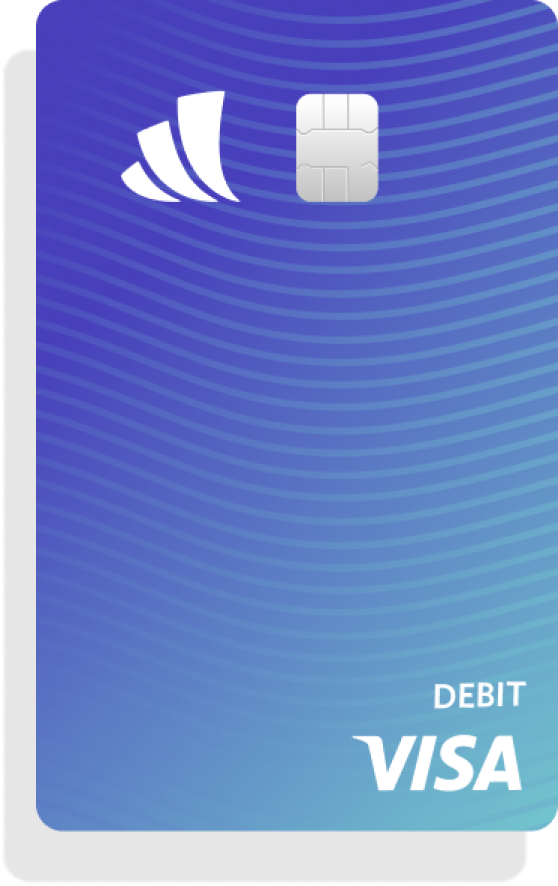 Earn 4.80% APY on all your cash.
Unlimited fee-free transfers.
No account fees, no overdraft fees.
Fast transfers to your investing portfolio.
Up to $5M FDIC insurance through our partner banks.
Get cash from 19,000 free ATMs from places like Safeway, CVS, Walgreens, and more.
Pay bills with account and routing numbers.
Set up direct deposit and automate your paycheck.
Support for Venmo, Cash App, Apple Pay, Google Pay, and PayPal.
Not quite a bank.

Quite a bit better.
We work with partner banks to offer exceptional banking features with ultimate flexibility and security. It costs you nothing, and it's all delivered through a Wealthfront Brokerage account that makes building your wealth easy.
Optimize your cash savings.
Invest in the market in minutes.
Spend with checking and ATM features.

Helpful automation tools to route deposits to your short-and-medium term goals, then invest the rest for your future.
Grow your long term wealth with
near-instant transfers to connected Wealthfront Investment Accounts.
Use your money when you need it - free debit card, 19,000+ ATMs, direct deposit, pay bills, plus send & deposit checks.
1. Nerdwallet receives cash compensation for referring potential clients to Wealthfront Brokerage, LLC ("Wealthfront Brokerage") via advertisements placed on their website. Nerdwallet and Wealthfront Advisers are not associated with one another and have no formal relationship outside of this arrangement. Nerdwallet's opinions are their own. Their ratings are determined by their editorial team. The scoring formula for online brokers and robo-advisors takes into account over 15 factors, including account fees and minimums, investment choices, customer support and mobile app capabilities. Nerdwallet ranking as of June 2022. Wealthfront provides cash compensation in connection with obtaining this ranking.
2. Bankrate's endorsements were voluntarily given and neither Wealthfront Advisers or Wealthfront Brokerage has a formal relationship with Bankrate. Bankrate evaluates firms based on many factors including cost factors, account features, and consumer experience aspects, such as mobile apps and customer support. The evaluation process was conducted by Bankrate's editorial team. Wealthfront pays an annual license fee to use Bankrate's awards in marketing materials.
3. Apple App Store and Google Play Store ratings based on user ratings from February 2014 (Apple) and December 2015 (Google) through June 2023. Ratings compiled by Apple, Inc., and Google, Inc., who receive compensation for hosting our app.
We've partnered with Green Dot Bank. The checking features offered on your Wealthfront Cash account are provided by and the Wealthfront Visa® Debit Card is issued by Green Dot Bank, Member FDIC, pursuant to a license from Visa U.S.A. Inc. Visa is a registered trademark of Visa International Service Association. Checking features for the Cash Account are subject to identity verification by Green Dot Bank and the Wealthfront Visa® Debit Card is optional and must be requested. Wealthfront products and services are not provided by Green Dot Bank. Green Dot Bank operates under the following registered trade names: GO2bank, GoBank and Bonneville Bank. All of these registered trade names are used by, and refer to, a single FDIC-insured bank, Green Dot Bank. Deposits under any of these trade names are deposits with Green Dot Bank and are aggregated for deposit insurance coverage.
Fee-free ATM access applies to in-network ATMs only. For out-of-network ATMs and bank tellers a $2.50 fee will apply, plus any additional fee that the owner or bank may charge. Fees and Eligibility requirements may apply to certain checking features, please see the Deposit Account Agreement for details. Copyright 2023 Green Dot Corporation. All rights reserved.
Apple Pay, Face ID and Touch ID are trademarks of Apple Inc. Google Pay is a trademark of Google LLC.
Cash Account is offered by Wealthfront Brokerage LLC ("Wealthfront Brokerage"), a Member of FINRA/SIPC. Neither Wealthfront Brokerage nor any of its affiliates are a bank, and Cash Account is not a checking or savings account. We convey funds to partner banks who accept and maintain deposits, provide the interest rate, and provide FDIC insurance. Investment management and advisory services--which are not FDIC insured--are provided by Wealthfront Advisers LLC ("Wealthfront Advisers"), an SEC-registered investment adviser, and financial planning tools are provided by Wealthfront Software LLC ("Wealthfront").
The cash balance in the Cash Account is swept to one or more banks (the "program banks") where it earns a variable rate of interest and is eligible for FDIC insurance. FDIC insurance is not provided until the funds arrive at the program banks. FDIC insurance coverage is limited to $250,000 per qualified customer account per banking institution. Wealthfront uses more than one program bank to ensure FDIC coverage of up to $5 million for your cash deposits. For more information on FDIC insurance coverage, please visit www.FDIC.gov. Customers are responsible for monitoring their total assets at each of the program banks to determine the extent of available FDIC insurance coverage in accordance with FDIC rules. The deposits at program banks are not covered by SIPC.
The Annual Percentage Yield (APY) for the Cash Account may change at any time, before or after the Cash Account is opened. The APY for the Wealthfront Cash Account represents the weighted average of the APY on the aggregate deposit balances of all clients at the program banks. Deposit balances are not allocated equally among the participating program banks.
The information contained in this communication is provided for general informational purposes only, and should not be construed as investment or tax advice. Nothing in this communication should be construed as tax advice, a solicitation or offer, or recommendation, to buy or sell any security. Any links provided to other server sites are offered as a matter of convenience and are not intended to imply that Wealthfront Advisers, Wealthfront Brokerage or any affiliate endorses, sponsors, promotes and/or is affiliated with the owners of or participants in those sites, or endorses any information contained on those sites, unless expressly stated otherwise.
Wealthfront, Wealthfront Advisers and Wealthfront Brokerage are wholly owned subsidiaries of Wealthfront Corporation.
Copyright 2023 Wealthfront Corporation. All rights reserved.